Set Your Heart On It
2021-02-12 11:48:23
Soldiers!
The loveliest day of the year is almost here. So how could we not bring a fresh contract specifically with this in mind, "Set Your Heart On It".
The contract includes a helmet, gloves, a cleaver, the Walther P99, and two free crafting cards.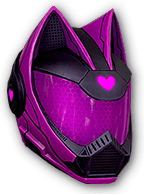 And to celebrate St. Valentine's day :
Warface dollars, XP and Vendor Points rewards are increased by 50% from 3 pm GMT on the 12th of February till 9 am GMT on the 15th of February.
Spread the love!
---
Discuss the article