My Warface Valentine on Facebook
2021-02-13 11:01:58
Soldiers!
Our intel reports a huge wave of love and happiness incoming. Are you fully geared up for the holiday ahead? Our Warface Valentine has already took over our group on Facebook and generously rewards attentive followers with elegant Cherry Blossom weapons. Take part in a themed activity on our Facebook page and get marvellous arms!
---
Details
The special activity has already started and will be active till the 18th of February 2021. During the upcoming week, follow our posts on Facebook and look for special ones marked with a Valentine card icon (see it below).
Once you spotted a post with an icon above, leave a comment with #MyValentine below. Thus, you will trigger our Warface Valentine who will congratulate you on the holiday with a Valentine card. After that, be sure to check out your private messages to choose the platform where you wold like to redeem your code and get a random prize from the list below.
Our beloved Nintendo Switch users will get their prizes a bit later. We will be sure to distribute festive gifts as soon as possible. We will keep you updated.
Please note that special posts will be well hidden among ordinary ones. So only the most attentive followers will get Warface Valentine's gifts. Follow the updates in our official group on Facebook during the whole week to collect all the prizes.
So What Should I do?
Follow posts on Facebook looking for festive ones maked with a special sign.
Leave #MyValentine in the comments to the festive post.
Get a Valentine card.
Check out your private messages.
Choose a platform.
Redeem your PIN code to get a random gift.
Prizes
In the framework of the activity, you will be able to receive the following weapons of the exquisite Cherry Blossom series for 7 days: Sapper shovel, Katana, Colt Python Elite, F90 MBR, Thompson M1928, Marlin 1894 Custom, and Truvelo CMS 20x42 mm.

Truvelo CMS 20x42 mm

F90 MBR

Marlin 1894 Custom

Thompson M1928

Sapper shovel

Katana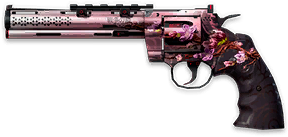 Colt Python Elite
Please note that you can get a gift only once a day.
---
Love is in the air, get a lungful of it, and fight for it if you have to!
---
Discuss the article